What goes on inside our workshop!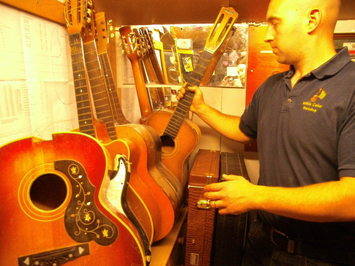 Toms guitar workshop team consists of myself "Tom King".
I'm the guy who works all the magic stuff to your guitar. my partner ,she does all the boring stuff with me like paper work and organising general business advice as well as the web design.
As a team, we work together to offer you the best service possible, with our extensive knowledge and years of Luthier wisdom, we can help you with everything from a basic string change - to making you a complete custom-built guitar!
The Workshop
All of the 'hands on' work is done here at workshop, like carving, sanding, wiring, setups etc. This room over the years, has seen the sawdust and wood carvings of thousands of guitars!
Recently, I have found it a bit cramped for the amount of work I turn around and therefore needed to expand in 2014.... Watch this space
The Workshop - The new workshop will be approximately two times bigger than the workshop at the moment, which will mean I carry out a lot of the 'beefy jobs' including sawing, machine wood thinning, pickup making, spraying etc.
Just give us a call or drop us an email with your enquiries and we will do our utmost to help!